NEW SERVICES AVAILABLE
Microneedling 250
Microneedling triggers the bodies natural healing process ,producing new collagen and elastin. Results include improved skin texture & laxity and a reduction in the appearance of wrinkles, stretchmarks, and acne scars.
UVA Skin Analysis 25
The newest technology in facials, a camera that sees below the surface. It tells you what's going to show up on your face before it appears.
Acupuncture – 1st Session 150 / 2nd Session 100
Application of Chinese medical principals and acupuncture needles to relieve symptoms. Helps relieve pain, anxiety & digestive issues.
Polarity Therapy 140
Holistic practice that works for anyone, in any state of health. It meets you where you are and inspires positive changes that are just right for you. Polarity Therapy is a system of treatment used in alternative medicine, intended to restore a balanced distribution of the body's energy by combining touch, exercise, nutrition and self-awareness.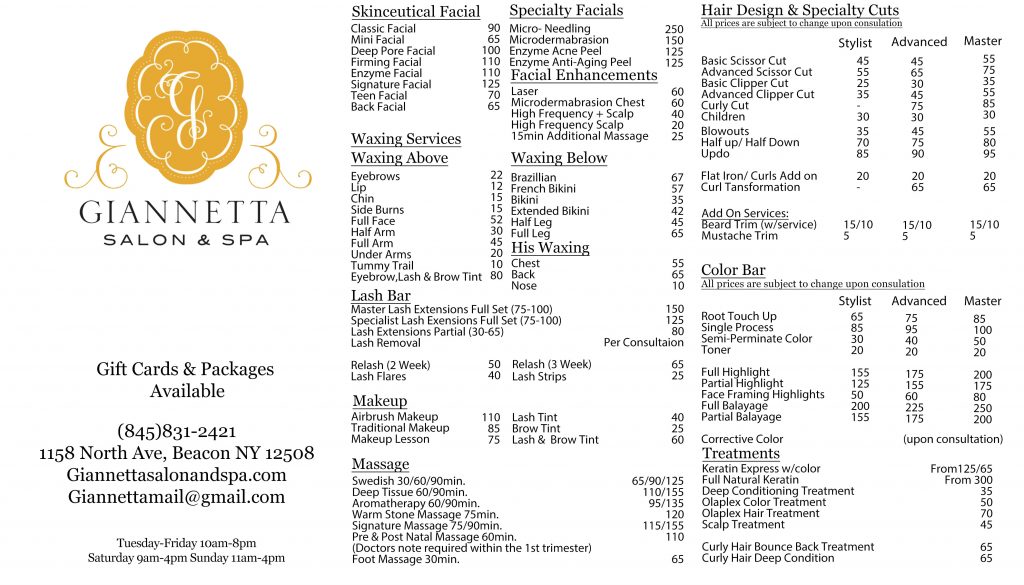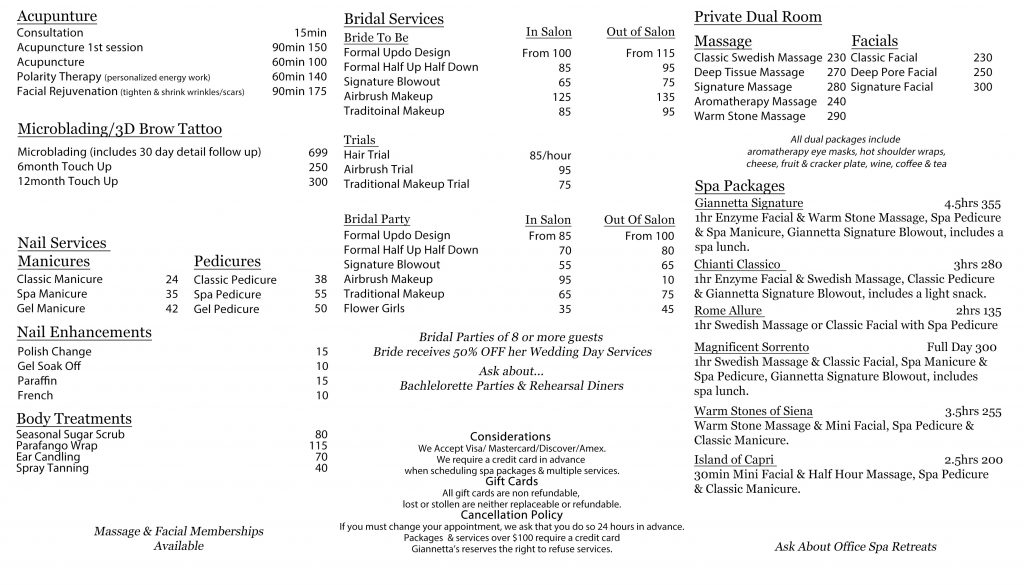 Been here a few times for massages. Every massage therapist I've had was amazing! I always leave feeling more relaxed and refreshed.



Snevets Leahcim recommends Giannetta Salon & Spa
Everything about this place is amazing! Went in for a much needed nail appointment and came out with smiles from ear to ear. Wonderful staff and always willing to go out and beyond. Highly recommend. Five stars all around.



Jenny D.



Love coming here to be pampered. The ladies here are wonderful, caring and oh so good. If you're looking for a great place to relax, get pampered or even just a cut and blow dry this is the pace to go to in the Hudson Valley!!


Suzanne Moulds reviewed Giannetta Salon & Spa — 5 star